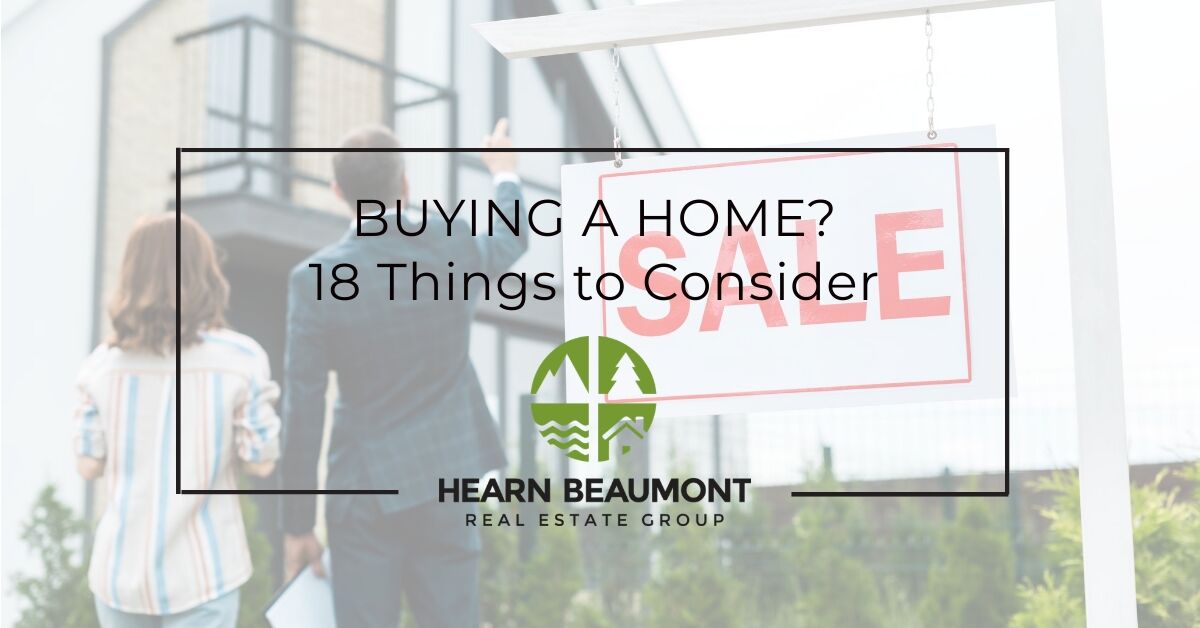 When thinking about buying a home, there are many things you should take into consideration. Some factors are the Location of the property, size of the property, environmental concerns, and will the house layout work for you? The tips below are some of the factors you should consider before making a life-altering decision in buying a home.
INTERIOR ELEMENTS
Interior Exterior Flow
What type of person are you? Do you enjoy the outdoors more than being inside? Is the ease with which you move from indoor to outdoor living space and back again important to you? This element is often overlooked and can make a huge impact on your day-to-day pace of life and is very important to consider when buying a home. Living in the Georgian Triangle affords us four seasons of outdoor activity, so you need to think about getting in and out with your bike, skis, canoes, etcetera. Moreover, having kids, pets and a busy lifestyle may require certain elements involving this indoor, outdoor flow. Things to look out for: Look for French or sliding exterior doors, and ease of entry into foyers and mudrooms, garage space, patio space, backyard access, backyard size and so on.
Square Footage
This may seem obvious, but we are not only talking about the overall size of a home, but also the size of each room. Consider the furniture you already have, as well as family size, entertainment needs, what type of style you are going for (warm and cozy or spacious and airy), and which spaces you will likely spend the most time in.
Try this: Visualize the key spaces in your home with your furniture and family in them. Bring measurements if you can.
Tip: Not too big, not too small, channel your inner-Goldilocks. While big spaces might seem better than cozy ones, they are not always the best choice for you and your lifestyle, decor or ideal flow.
Interior Layout
Like indoor-outdoor flow, the interior layout, or floor plan, has a big impact on daily life. Having space and logical flow where you need it most is important. Room placement is an important consideration. Will you be hosting a lot of company? Does laundry on the main floor or otherwise work best for you? Does the main floor master make the most sense? All these are important things to consider when buying a home.
Try this: When touring a home, go through the flow of your typical morning routine, or day.
Natural Light
This is very important, yet it's often an overlooked element. It is suggested that you make a couple of appointments to give the homes you like a second look at a different time of day. This will give you a better picture of what the light is like in the home, and whether you will need to make any changes to suit your needs should you purchase the home. Ideally, look for a house with many well-placed windows.
Architectural Details
Great architectural details, like exposed beams, beautiful moulding and mantels, will make everything else you do to your home look even better.
Tip: When buying a home, look past the superficial and focus on if the house has 'good bones.'
Heating and Cooling Systems
While not as big an issue in temperate climates, we do have very cold winters and our summers can get pretty hot! It is important to have reliable and efficient heating and cooling systems, so make sure you ask about the age of the units, and how often they have been maintained by a professional serviceman.
Location of Laundry Room
Laundry is rarely an enjoyable chore, so you want to make sure that the laundry room is in a convenient spot. If it is hidden away in a dingy corner of the basement, you are more likely to be frustrated and leave the laundry to pile up. But since this is a chore that usually needs to be done frequently, having a laundry near a main living area can make life easier. You also want to note that the size of the laundry room may be important for laundry supplies as well as extra storage.
Kitchen Features
There are a number of elements to consider in a kitchen. Usually, the kitchen is the hub of the home. It is important to determine who spends the most time in the kitchen in your home? Ask them what features are most important and convenient for them. For example, if a gas stove is a must, find out about the cost associated with connecting a gas line if there isn't one already. Storage is another important element of kitchen design. You should also consider the amount of natural light, number and size of sinks, shape, layout, ventilation, lighting and a space that will suit your lifestyle for eating and entertaining.
Number of Bathrooms
Adding a bathroom can be expensive, so choose a home with enough baths to meet your family's needs. Even if you are a household of only one or two people, an extra powder room on the main floor can be a big bonus.
Ceiling Height
Some basement and attic rooms have less than adequate ceiling heights. Make sure the ceiling height in your new home is adequate, practical, comfortable and appealing to you. Make sure to bring the tallest family member in your home along for the tour.
EXTERIOR ELEMENTS
Grade of Lot
The elevation of a lot is in some ways even more important than its size. After all, what good is an acre if it's too steep to walk on or will end up flooding your basement during a rainstorm? You should also think about what you want to do with your yard in the future. For example, would you like to add a fence, deck, an addition, a swimming pool? Ask yourself if the yard avails itself to these changes.
Zoning, Subdivision Restrictions and Municipal Ordinances for Animals
Now, this is not an obvious one, but it's worth thinking about. If you are considering changes to the property, there may be municipal or subdivision restrictions on what you can and can't do. For example, installing a fence around your yard may be subject to Municipal setbacks. Or if you think you will ever want to have your own chicken coop or any "unconventional" pet, it is a good idea to check out the local ordinances before committing to buying a home.
The orientation of Home on Lot
The way a house is positioned on its lot also affects how much natural light it gets and can influence heating and cooling bills as well. A south-facing home will maximize natural light — through a north-facing home can be just as bright if the main living space is in the back of the home and there are ample windows all around.
Placement and Size of Driveway
It might seem like a trivial element of home and property — until you buy a home and realize your car won't fit in the ridiculously narrow driveway, or you have to shovel that way-too-long driveway after a mega snowstorm!
Additional Parking
If you foresee the need for street parking for guests or extra cars, keep this in mind. Ask your realtor, that's us, about the bylaws for overnight parking, etc.
Pitch and Length of Staircase
Whether or not you yourself have any mobility issues at present, this is something to think about for the future, or in regards to people you may have staying with you. If you think you might ever want or need to take in an elderly relative, or you plan to age in place, a long, steep staircase may not be the best feature.
Privacy & Proximity of Neighbours
This is an important one. The distance between your home and your neighbours. Though the general area has much to do with how close your neighbours are, there can still be a big difference between how private one house feels over another. If privacy is important to you, be sure to check the views from every window and walk the perimeter of the property to get an idea of how close you will be to your next-door neighbours.
The Neighbourhood
This may be where you started your search, but have you really considered all aspects of your potential new neighbourhood? School districts are of course important for families with kids, and proximity to work and family closely follows on many folks' wish lists. But you may also want to look into what the walkability score of your neighbourhood is, what community amenities (libraries, parks) are nearby and what public transportation is available.
There are many other factors to deliberate when buying a home, but these are some of the big ones. Be sure to consider these 18 things when you are contemplating buying a home.
Share!